Crack down on anime piracy continues in Japan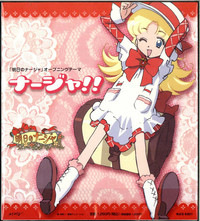 On June 3, Kochi-Minami station and the social affairs & environmental division of Kochi Prefectural Police arrested a 27-year-old office worker from Kohnan-city, Kochi, on suspicion of using Share file-sharing software to upload the 2003 TV anime Ashita no Nadja, to the Internet without the copyright holder's permission.This is the first arrest case for copyright infringement using Share in Kochi, Kochi Shimbun reported.
According to the article, the suspect uploaded the 1st and 2nd episode of Ashita no Nadja, which is owned by Toei Animation (Dragon Ball, ONE PIECE), to the Internet on 10:30 am, June 3.The suspect's house was immediately raided by the police before the noon of the same day, only one hour after he uploaded the anime episodes. The police also found he had already uploaded 6,500 files of anime and pictures to the Internet, and is questioning him about other crimes. The suspect has admitted his guilt and said "I just did what a file-sharing software user can do."
I found this news in my local newspaper this morning. This arrest case was actually happened in Kochi, the prefecture where I live now. I have heard people who support anime/manga piracy saying, "Don't worry. Police will never knock on your door!" It seems the police actually start knocking on your door, at least in Japan.
Related:
Bakuman Anime Uploader Arrested
Man Arrested for Uploading Movies on Nico Nico Douga
Ichigo Mashimaro Manga Uploader Arrested
Man Arrested for Uploading Arashi Videos on YouTube
ONE PIECE Film Uploader Arrested
Another Illegal Anime Uploader Referred
Source: Kochi Shimbun, Sankei Shimbun
image © ABC/Toei Animation