Brad Caleb Kane is hired to script the 2012 Daredevil reboot.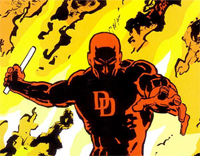 Marvel and 20th Century Fox executives have decided to hire Brad Caleb Kane to script the 2012 Daredevil reboot. Kane gained a considerable amount of buzz for his work on Brooklyn's Finest and is a credited producer on the series Fringe. It's said that his enthusiasm for the comic helped secure his involvement in the project.

It was also announced that the movie will cover material from Frank Miller's "Born Again" storyline. This dark chapter in the comic focuses on Karen Page, the secretary to Matt Murdock (Daredevil's secret identity) and his partner Foggy Nelson. It centers on her trying to pursue a career in acting, only to fall victim to the harsh reality of drugs, porn and the evil grip of the Kingpin.

Also attached to this project is director David Slade (30 Days of Night, Hard Candy and Eclipse). This is a far cry from the 2003 film that grossed over 173 million worldwide and launched the spin-off movie, Elektra, starring Jennifer Garner. With "Born Again" as the source material, fans can expect a more serious tone to the movie. While the project is said to be in development, there are no projected filming dates or cast announcements.

Source: IMDB
Picture Source: ugo.com

----
Sean Russell is the webmaster for the podcasting network, Anime3000.com.