The most realistic voice engine yet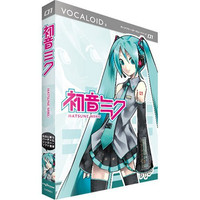 YAMAHA Corporation announced on June 8 that VOCALOID 3, the next version upgrade of their popular singing synthesizer application, will be released at the end of September this year. It is being claimed as their most "realistic voice engine yet."
YAMAHA started developing the VOCALOID system in 2000, and the 1st commercial software was released in 2004. VOCALOID 2, the 2nd version of the software featuring a female character Hatsune Miku became a huge hit, shipping 40,000 units in a year. Recently Miku appeared in a TOYOTA'S TV CM, and VIZ Media has announced that they hold the U.S. product licensing rights for MIKU. Now she is a phenomenon.
The third version of VOCALOID features:
・Separate component (Editor and Vocal Library)
・New interface (Track View Screen)
・User-friendly playing system
・More realistic voice
・Multi language support (Japanese, English, Chinese, Korean, Spanish)
The retail price of VOCALOID 3 Editor will be about 10,000 yen (roughly US$124.82) and that of the
vocal library is to be determined soon.
Also they reported the founding of VOCALOID Music Publishing, which aims to support VOCALOID creators.
They will set up a lecture class to teach them how to manage right issues, and a record label for VOCALOID music.
Related:
VIZ Media Announces The U.S. License For Hatsune Miku
ItaG Fest 2011 Report! (Part Three: All Hatsune Miku Edition)
Source: Shukan ASCII Plus
© Yamaha Corporation
© Crypton Future Media