The 60th anniversary of the Osamu Tezuka's humanoid robot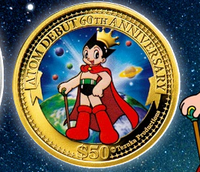 Imperial Enterprise will release the golden and silver commemorative coins featuring Tetsuwan Atom/Astro Boy supervised by Tezuka Productions in commemoration of the 60th anniversary of the super robot's debut. The coins are officially published by the government of Tuvalu, one of Commonwealth Realms. The golden coin's price is 169,500 yen (US$2,114) and the silver's is 39,000 yen (US$487).
Tetsuwan Atom/Astro Boy is a Japanese manga character created by Osamu Tezuka, often called "God of manga" in Japan. Atom's actual debut was in "Ambassador Atom", which was serialised in the monthly manga magazine "Shonen" from April 1951 to March 1952. Following the popularity of Atom, Tezuka started "Tetsuwan Atom" in April 1952 in the magazine. Now, Atom/Astro is one of the
most beloved Japanese anime/manga character all over the world.
Source: Press release
© Tezuka Productions