The new live-action film will use source material from the comic.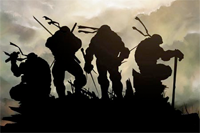 Nickelodeon Movies and Michael Bay are teaming up to release the live-action reboot for Teenage Mutant Ninja Turtles. Josh Appelbaum and Andre Namec have been hired to adapt material from the original comic. Applebaum and Namec are also responsible for writing the screenplay for the fourth installment of J.J. Abrams' Mission Impossible.

TMNT was created by Kevin Eastman and Peter Laird in 1984. The single issue comic book was designed to parody several popular titles from the 80s. This included: Marvel's Daredevil, New Mutants, Dave Sim's Cerebus and Frank Miller's Ronin. In just a few months, the comic became an instant collectors item, selling for over fifty times its cover price. The property became a cultural phenomenon after the release of a line of action-figures produced by Playmates Toys. A back-story was created and after a string of investments, the Teenage Mutant Ninja Turtles series was born.

The source material loosely followed the original comic and moved closer to the source material with each subsequent version. Most of the catchphrases and goofy comedic elements (pizza loving, surfer personalities, COWABUNGA) can be credited to the 80s cartoon version.

The new reboot was originally optioned in 2008 and was picked up for distribution by Paramount in 2009. Currently the movie is in the early development without a director or cast. It is expected to be released in 2012.

Source: IMDB
Image Source: Screenrant.com


----
Sean Russell is the webmaster for the podcasting network, Anime3000.com.