Utena Tenjou (Revolutionary Girl Utena), Hikaru Shindou (Hikaru no Go)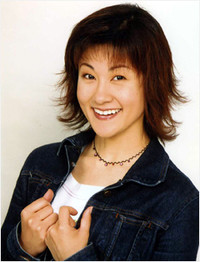 The official blog of the voice actor agency Production baobab announced today that voice actress Tomoko Kawakami passed away at 4:45 pm on Thursday, June 9. She had been under medical treatment since August 2008 due to cancer of the ovary. She was 41 years old.
Her debut role was a boy in the TV anime Metal Fighter Miku in 1994. She had been playing more than 200 characters in various anime and game titles. Her most famous role are probably Utena Tenjou in Revolutionary Girl Utena and Hikaru Shindou in Hikaru no Go. She was definitely one of the most popular and beloved anime voice actress in 1990's-2000's.
If I can choose my most favorite character played by her, it must be Kasumi Nanase in a dating-sim game True Love Story 2 in 1999. That was the first role I recognized her voice. I was still hoping the remake of the game indeed. I miss her so much.
Kasumi Nanase in True Love Story 2
Source: Production baobab blog, Sankei Sports
© Production baobab
© ASCII/ENTERBRAIN