Or Umineko no Naku Koro ni or "any other title that bears even a minor resemblance."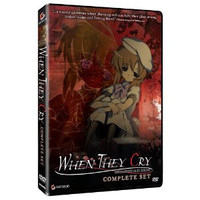 In a somewhat rare case of telling-it-as on the part of the industry, a member of the FUNimation acquisitions team has posted on their new beta forums that FUNimation will not be licensing the rest of When They Cry (aka Higurashi ga Naku Koro ni) due to poor sales of the first season. "Sophie" writes:
Whey They Cry has expired and is past the sell-off period. It was the only WTC series that was a part of the original distro deal with Geneon. We renewed the titles that were part of that deal that did sell well. We let expire the ones that didn't. That inludes my beloved The Familar of Zero.

The WTC sequels and Umineko were not part of that agreement. We do not have the license to any of those series. Unfortunately, because WTC series 1 sold poorly, we will never buy the license to the sequels or any other title that bears even a minor resemblance.

[...]

Unfortunately, I have to look at sales data, and signs point to not buying the sequels or Umineko and instead putting our money toward less riskier titles.
Therefore, Higurashi no Naku Koro ni Kai, Higurashi no Naku Koro ni Rei, Umineko no Naku Koro ni and any other OVAs or sequels will not be released by FUNimation. Will begging them more help? Nope. It doesn't matter how vocal a fandom is if the sales aren't there to match.
Is there any hope of a proper R1 DVD release for fans? What about begging other companies? Maybe if Sentai or Nozomi or NIS America can figure out a way to make it work out sub only. However, a dub release is pretty unlikely now that FUNimation has passed on the license. Alternatively, you can get the games from MangaGamer.
When They Cry was originally acquired by Geneon. FUNimation acquired the distribution license to the show with the other Geneon titles in 2008 after Geneon ceased to distribute titles in North America.
Source: FUNimation Beta Forums via Fandom Post Forums
Image ©Ryukishi-07/Higurashi-P/Sotsu