Dwayne Johnson and Elodie Yung join the cast of G.I. Joe: Cobra Strikes.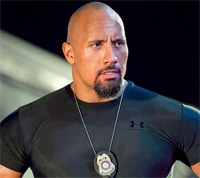 It was announced that Dwayne "The Rock" Johnson would join the cast for the August 10, 2012 release of G.I. Joe: Cobra Strikes. He will play the role of Roadblock, the heavy machine gunner well known for his love of barbeque sauce and jive talk. Also joining the cast as Jinx is the French actress, Elodie Yung. She is best known for playing the character Tao in Luc Besson's District 13: Ultimatum.

Given Roadblocks' critical role in the cartoon movie and the high profile of The Rock, rumors are circulating that the film could follow the Cobra-La story arc from the 1987 film. Further speculation into the source material would be Jinx's critical involvement in the Cobra-La storyline. In the cartoon movie, she plays a new recruit trained by Beach Head as well as the love interest to Lt. Falcon, the younger half-brother of Duke (Channing Tatum). During the film's climax, she has a showdown with one of the most lethal members of Cobra-La.

Earning more than 300 million worldwide, it was no secret that G.I. Joe would be back in theaters. The original, while financially successful, was critically panned by the press. Hopefully a few changes on the crew will help breathe new life into the franchise. Jon Chu who recently helmed Justin Bieber: Never Say Never and Step Up 3D is attached to direct. Rhett Resse (Zombieland, Monster's Inc) and Paul Wernick (Zombieland, Deadpool) will write the screenplay. Also joining the crew is swordmaster Thomas DuPont (Thor, The Amazing Spider-man, Pirates of the Caribbean).

Confirmed to return to the franchise are Channing Tatum (Captain Duke Hauser), Ray Park (Snake Eyes) and Byung-hun Lee (Storm Shadow).

Watch the Original 1987 Movie Trailer

Source: IMDB.com
Image Source: screenrant.com

----
Sean Russell is the webmaster for the podcasting network, Anime3000.com.