Infamous Heroine Again Defending the Students of Toenail of Satan's Spartan Institute of Higher Education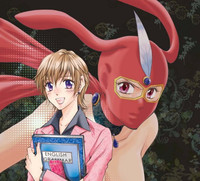 Newly released Business Jump No. 14 features a new adventure starring one of the notorious Dirty Uncle of Manga, Go Nagai's most infamous creations. In "THE EXCELLENT ~ ~ Kekko Kamen Gaiden," Shinobu Inokuma (Salad Days, Duction Man) handles the task of chronicling the exploits of Kekko Kamen, a heroine who protects the students of Toenail of Satan's Spartan Institute of Higher Education from their diabolically lecherous teachers while wearing a mask, and nothing else.
The original 1974 Kekko Kamen, a raunchy bondage and torture filled parody of tokusatsu show Gekko Kamen/Moonlight Mask) in ran Monthly Shōnen Jump, and along with his break out Harenchi Gakuen/Shameless School earned Go Nagai the enmity of Japan's PTA. The series was adapted into a 1991 OVA series, released in North America by ADV Films, and live action movies, released by Media Blasters.
Often with strange deformations, violence and perversion along for the ride, anime/manga innovations that Go Nagai are credited with include the first internally pilot mecha (Mazinger Z), the first combining mecha (with Ken Ishikawa, Getter Robo) and the first transforming magically girl (Cutie Honey).