New Miso Soup inspired by the series, The World God Only Knows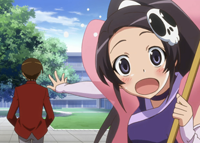 It was recently announced that the series, The World God Only Knows, will have its very own Miso soup. It will go on sale in the middle of June for the price of 368 yen ($4.56). This item will only be available in Japan. Miso soup is a traditional Japanese soup that contains dashi, which is mixed softened miso paste.




Episodes of The World God Only Knows can be found on Crunchyroll.com. There are twelve episodes of the first season available with episode eleven of the second season set to debut this Monday.


Source: Nataile.mu
Image Source: Nataile.mu

----
Sean Russell is the webmaster for the podcasting network, Anime3000.com.