NO.1 is Ayumi Hamasaki and Noriko Sakai on the second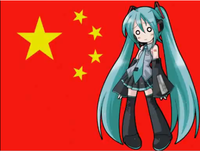 Searchina Research Institute, which engages in marketing research by questioning Chinese consumers, has reported the result of the Internet inquiry "Who is your favorite female Japanese singer?" with 3,000 Chinese people. The inquiry was held in May 2011. Our Hatsune Miku, a VOCALOID singer/idol, is placed at the 15th (4.8%).
MMD: Kung-fu Circulation (in Chinese)
Here is the TOP 30 list. It seems no anime singer/anime voice actress in it...?
1. Ayumi Hamasaki (32.1%)
2. Noriko Sakai (31.1%)
3. Momoe Yamaguchi (27.1%)
4. Mai Kuraki (17.4%)
5. Hikaru Utada (16.4%)
6. Namie Amuro (13.9%)
7. Mika Nakajima (9.9%)
8. Lisa Ono (8.1%)
9. Morning Musume (7.9%)
10. Takako Matsu (6.7%)
11. Ai Otsuka (6.6%)
12. Emi Fujita (Le Couple) (5.8%)
13. Seiko Matsuda (5.5%)
14. Kumi Koda (4.9%)
15. Miku Hatsune (4.8%)
16. Ayaka Hirahara (3.9%)
17. Teruma Aoyama (3.9%)
18. Chika Yuri (2.7%)
19. Anri Kumaki (2.4%)
20. Aya Matsuura (2.4%)
21. YUI (2.4%)
22. AKB48 (2%)
23. KOKIA (1.9%)
24. Kiroro (1.9%)
25. Perfume (1.2%)
26. Dreams Come True (1.1%)
27. Misia (1.1%)
28. Dream (1.1%)
29. moumoon (0.9%)
30. Noone (17.4%)
Source: Searchina