Pop Artist Celebrates Solstice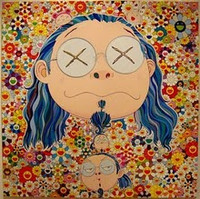 For it's June 21st, first day of summer, customized Google Doodle logo, the search engine enlisted the help of Supeflat pop artist Takashi Murakami.
and there's a southern hemisphere variant
Murakami's approach to art with an aesthetic of marked by its flat planes of color and iconic characters, often compared to anime and manga, has attracted international notoriety, with Time Magazine naming him one of their "100 Most Influential People" in 2008, and his name mentioned in just about any conversation about pricey modern art. On the commercial front, he's been featured across a spectrum of items from Louis Vuitton handbags to Kanye West album covers. And, he's been a source of controversy from the world of high art, his recent exhibit at the Versailles Palace drew ire, to pop culture commentary, where his "Superflat" vision has been criticized as unoriginal.