First release since put on hold nearly two and a half years ago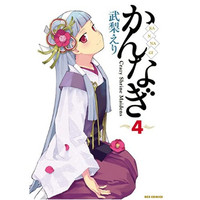 Eri Takenashi, the author of Kannagi, has announced on her blog that the series will be resuming serialization in the September edition of Comic REX, on sale July 27th. Initially, a total of three chapters are planned to be published in subsequent issues, with further chapters on an irregular basis depending on her health. She intends to put out a chapter every other issue or every third issue. Kannagi had been put on hold back in January of 2009 so she could recover from an unstated illness. She says on her blog that she has not recovered enough yet to put out chapters monthly, but is really happy to be able to continue drawing.
A total of 6 volumes had been released before it was put on hold. Bandai Entertainment licensed the manga back in 2010 and released the first volume in June of 2011.
Source: Eri Takenashi's blog, Mantan-web via Yaraon!
Image ©武梨えり/一迅社