Yehudi Mercado Illustrates The Muppets as Characters from Games of Thrones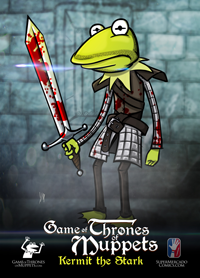 Artist Yehudi Mercado illustrated a series of mash-ups featuring The Muppets and characters from the HBO series, Game of Thrones. The illustrations are part of a promotional campaign for Mercado's graphic novel, Buffalo Speedway. All nine illustrations will be given away on 5"x7" cards if you purchase either volume of the novel.




Click Image for Larger Pictures

Game of Thrones is the first in a series of books by George R.R. Martin, collectively known as A Song of Fire and Ice. It was adapted into a series for HBO that received both critical praise from fans of the book and individuals not familiar with the franchise. The season recently ended with future episodes slated for Spring of 2012. Season One is currently available on most On Demand Cable services. DVD pre-sales are posted on Amazon.com with no available release date announced. It will be available on both DVD and Blu-ray.

The Muppets return this summer in a new movie starring Jason Segel. Their viral campaign of parodying popular movies falls right in line with Yehudi Mercado's illustrations. These movies include: Pirates of the Caribbean, The Hangover Part 2 and The Green Lantern. You can see all of the trailers and more information about the movie here.



Watch the official trailer for the new summer movie, set to be released in theaters on November 23, 2011.


Source: blastr.com
Image Source: Disney/Yehudi Mercado

----
Sean Russell is the webmaster for the podcasting network, Anime3000.com.