Second Season of WORKING!! Confirmed for October 2011.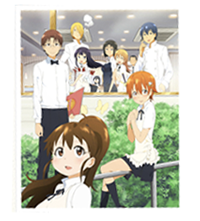 A second season of WORKING!! has been confirmed for October 2011. Other confirmed fall series include: GundamAGE, Shukugan no Shana S3, Fate/Zero, Future Diary, Bakuman Second Period and Persona 4.

It's the perfect time to catch up before the fall. The standard series edition of WAGNARIA!! (WORKING!!) has a scheduled street date of July 5, 2011.

Stay tuned to Crunchyroll News for more information about the 2011 summer and fall anime seasons.


Source: Mon0r.com
Image Source: WAGNARIA

----
Sean Russell is the webmaster for the podcasting network, Anime3000.com.