NIS America-published Nintendo 3DS version gets delayed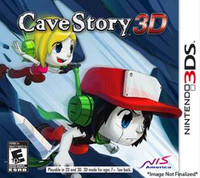 Normally a wave of joy washes over me whenever I receive press releases regarding Cave Story 3D. Not the case today, as NIS America has announced a new release date for the Nintendo 3DS title: November 8.
This is a fairly substantial move for Cave Story 3D, which was most recently set to hit North American shelves on August 9. According to NIS America producer Jack Niida, via the press release: "We are currently undergoing improvements to enhance gameplay. Changes are in the small details, but in order to satisfy both the fans and the new players we need to make sure the game is done right."
Below you'll find a few screens that will either make the extended wait harder or easier, depending on who you ask.