Which titles will you purchase?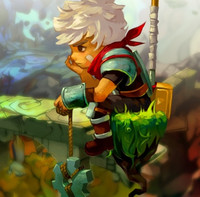 Xbox Live Arcade's Summer of Arcade is an annual event during which some of the most anticipated Arcade titles pop up for download, and this year sees five new games lighting up XBLA, starting with Bastion on July 20.
Bastion looks like a pretty interesting way to kick things off. The isometric action-RPG lands on July 20 for 1,200 MS Points ($15), trumpeting the arrival of a full summer of games. Not far behind on July 27 is From Dust, a god game designed by Eric Chahi, creator of the classic platformer Out of this World (Another World). It also comes in at 1,200 MS points.
The rest of the summer mixes things up with Insanely Twisted Shadow Planet on August 3 (1,200 points), Fruit Ninja Kinect on August 10 (800 points/$10), and Toy Soldiers: Cold War on August 17 (1,200 points). Purchasing all of these titles will cost you a whopping 5,600 points ($70), but will also net you a bonus: the action-RPG Crimson Alliance—slated for September 7 and normally 1,200 points—for free.
Here's a commercial that shows snippets of each game:
Via 1up