Live stream from the event the day of and a re-broadcast of the same stream a week later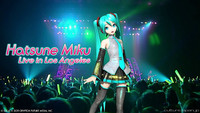 Can't make it to Anime Expo in Los Angeles this year? Couldn't get seats to the sold out concert? NicoNico Douga has announced that they will be streaming the Hatsune Miku Mikunopolis in Los Angeles concert live. However, one must buy a ticket to the stream. Streaming tickets require a NicoNico Douga account and cost 1500 NicoNico Points which is equivalent to 1500 yen (~$18 USD). NicoNico Points must be purchased before the tickets and separately from the tickets. Tickets can be gifted for this event. It is not mentioned if there will be any regional blocks and yes, unfortunately all of above pages are in Japanese.
The concert is scheduled to begin at 8:30PM Pacific Time on July 2nd which is 11:30PM Eastern and 12:30PM July 3rd Japan Time. The "doors" on NicoNico Douga will open at 12:00PM Japan Time. They will also be holding a re-stream of the recorded video from the event on July 10th at 2000 JST (7AM EDT, 4AM PDT). The re-stream also requires tickets.
Hatsune Miku 「MIKUNOPOLIS in LOS ANGELES」 Live Event Page
NicoNico Info Blog Annoucement
Image ©Crypton Future Media, Inc ©Sega
Previously: Hatsune Miku to Perform in Concert at Anime Expo 2011