Voice Actors Lists for Oft Delayed Release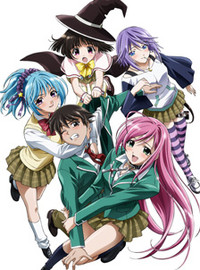 If you follow anime release date changes, you've seen FUNimation's release plans for the Rosario + Vampire anime skitter into the future on numerous occasions. A specific date is currently undetermined, but a trailer has abeen posted, and the series' release now has an English dub cast list attached.
Jason Grundy serves as the ADR director with Mike McFarland as the line producer.
Alexis Tipton as Moka Akashiya
Todd Haberkorn as Tsukune Aono
Brina Palencia as Kurumu Kurono
Jamie Marchi as Shizuka Nekonome
Jerry Jewell as The Bat
Leah Clark as Ruby Tojo
Monica Rial as Yukari Sendō
Tia Ballard as Mizore Shirayuki
Chuck Huber
Ian Sinclair
Jason Douglas
Lydia Mackay
Newton Pittman
Tsukune's terrible grades stick him in the only school that will take him. To his mortification, all his classmates are monsters and if they figure out his human status, he's fresh meat! But when his scent attracts the hungry lips of a gorgeous vampire named Moka, it turns out he's a sucker for supernatural chicks. Before long, Tsukune is being seduced by a bouncy succubus, tormented by a witch who swings both ways, and felt-up by a stalker snow fairy. Moka doesn't mind sharing with her new friends, but her panties get in a twist when real danger threatens her boy-toy. Beastly bullies beware, because when Tsukune unlocks Moka's supermonster seal, a ravaging beauty with a dropkick from hell is revealed!