Charlie and the Chocolate Factory Promo With "Gwashi!" Card for the Single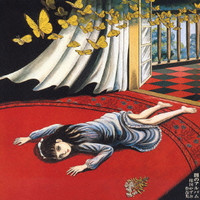 Just about any other manga artist who either takes horror seriously, does the opposite and infuses it with gags or both at the same time inevitably looks back to the work of Kazuo Umezu (Drifting Classroom, Cat Eyed Boy, Orochi). Not satisfied to sit on his legacy, the sprightly 75 year old horror manga legend has been performing acomedy/rock/horror act, and now he has a CD single and album release planned. Never content with normalcy, the CD is running a Charlie and the Chocolate Factory style promotion.
Single "Shinjuku Crow" is planned for July 27 and album "Yami no Album 2" (Album of Darkness) will be released on August 31. His original "Album of Darkess" LP was released in 1975.
A limited edition of the single will be packaged with Umezu trading card, amongst which 7 "Gwashi!" (Umezu's catch exclamation) will be distributed. Gold "Gwashi!" recipients will be invited to visit Umezu's famous red and white striped house.
And another bonus, Hatsune Miku singing a tribute to Umezu's Snake Girl