Broadcast their own net-show and release the CDs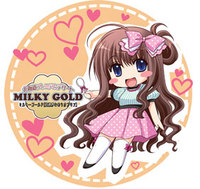 "Milky Gold" is a premium pudding featuring two moe/bishoujo characters produced by a Hokkaido-based confectionery Seikado. The illustrations were drawn by a popular bishoujo artist Aoi Nishimata (SHUFFLE!, Final Approach). The moe pudding made its debut in September 2009, and became one of the most popular product of the company immediately.
Following the success, Seikado, with a music produce company/label Ayai Factory, has started "Moe Pudding Milky Gold Idol Project" in March 2011. They chose Miyu Inoue (Koihime Muso's Mokaku) as voice actress for Riri Aoba, and a total newcomer Aya Tojou for another girl Yuki Kayama by the audition more than 300 people attended on May 2011. The two voice actresses as Riri and Yuki have already started a net-show "Moe Pudding Channel" on Nico Nico Douga's ch868 on May. The two will also release their theme song CD and a drama CD in August this year.
Riri Aoba Yuki Kayama
The Moe Pudding package
The price of the Moe Pudding are:
Tsundere package ver. ... 385 yen (US$4.75)
Six Puddings Set (with a coaster)... 2,300 yen (US$28.41)
Six Puddings Set (with a limited mouse pad)...3,200 yen (US$39.54)
Mouse Pad
Source: Press Release
© Seikado/Aoi Nishimata