Interact with Haruhi and others via verbal apps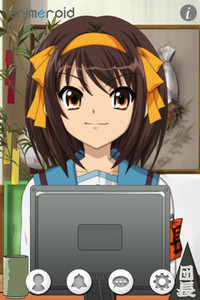 One of three apps inspired by Nagaru Tanigawa's Haruhi Suzumiya light novel and anime series, Haruhi's AniPoke allows users to interact with Haruhi Suzumiya in a limited verbal manner via voice recordings and changing facial expressions.
Kadokawa Shoten released Haruhi's AniPoke in Japan and overseas last week as a free download. The other two apps released, Mikuru's AniPoke and a Nagato AniPoke, however, are available for ¥115 ($0.99) for a limited time from July 7-August 31, when they will revert to their normal ¥450 ($3.99) price.
The apps also offer an alarm clock featuring the character voices and hidden commands. The Motion Portrait technology used in the Haruhi's AniPoke app was previously used in games.
Via ANN