Kairi Shimotsuki's version of the Sanada Ten Braves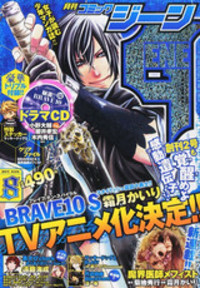 According to the cover of the August issue of Monthly Comic Gene, Kairi Shimotsuki's "stylish Sanada Ten Braves" manga Brave10 S (read Brave 10 Spiral) has been green-lit for a TV anime adaptation. The cover, pictured right, was recently added to the Amazon.jp listing for the August issue, on sale July 15th.
Brave10 S is a continuation of Brave 10, which has 8 volumes out and was serialized in Monthly Comic Flapper until it was announced it would be moving to Monthly Comic Gene, a new monthly that runs shonen manga for girls. It resumed serialization in the June issue of Monthly Comic Gene under its new title.
via Temple Knights
Image ©Media Factory