'Cause You Can Never Have Too Much Anime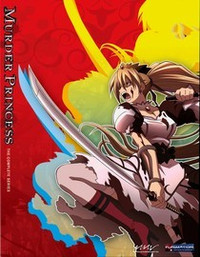 Netflix's streaming service has added 10 new anime series to its offering, including Hero Tales - based on the manga by Fullmetal Alchemist creator Hiromu Arakawa, Oh! Edo Rocket - based on a stage play by Gurren Lagannwriter Kazuki Nakashima and Moeyo Ken, based on a game with with designs by the legendary Rumiko Takahashi.
Souma Toru's hacker gang once had the run of the Wired World, a network accessible only by the mind. When his group was torn apart, he was forced into a military organization that protects the data paradise. Now, from the inside, Toru vows revenge.
Ellis is an amnesiac with a bounty on her head, and Nadie's trigger finger is the only thing keeping her friend safe. The girls hit the highway to find pieces of Ellis's mysterious past, but their special bond is bound to be tested.
The magical -- and desperately coveted -- Gad stone spiritually connects with a person and then transforms into a powerful robot known as a Techode. Hajiki Sanada has more important things on his mind than omnipotent robots; he toils hard to support his family in a small, impoverished town. But when he happens upon a Gad and makes the connection, everything changes for him.
Hero Tales: The Complete Series
Evil Lord Keiro seeks a sacred sword that will make him a god. Taito, a powerful star reborn as a man, vows to avenge those killed by Keiro. To restore justice, Taito will join the seven star-born warriors with the strength to shatter a corrupt empire.
After her father, the king of Forland, is assassinated during a coup d'état carried out by the diabolical Dr. Akamashi and his army of supernatural cyborgs, Princess Alita is forced to flee the kingdom and go into hiding. But when a strange accident causes Alita to switch souls with the infamous bounty hunter Falis, she suddenly finds herself endowed with the powers to avenge her father's death and recapture the throne.
Moeyo Ken: The Complete Series
Set in an alternate version of the Meiji era, this wacky anime series follows Yuuko Kondou, Toshie Hijikata and Kaoru Okita, daughters of former members of the legendary samurai Shinsengumi team. Following in their fathers' footsteps, the three young women work to protect Japan from evil forces. But modern-day problems -- including a chronic lack of funds -- and surreal adversaries make the job much tougher than it was for their fathers.
Oh! Edo Rocket: The Complete Series
Welcome to Edo, a town where you can't have fun, you can't earn money, and you can't strap a princess to a rocket and blast her into space -- but don't tell that to Seikichi. If he can send his lady to the moon, Edo just might become bearable again.
Pumpkin Scissors: The Complete Series
Alice Malvin commands a military propaganda unit, but she yearns to cut through the deception. When she uncovers a secret super-soldier program, The Invisible Nine, she turns to hulking Randel Orland, who may hold the key to unlocking the mystery.
Sands of Destruction: The Complete Series
In a desert world where beast men rule over humans, the dangerous beauty Morte sets out to do the impossible: destroy the entire planet. By enlisting the help of Kyrie, a boy with secret powers, Morte steadily brings her dream closer to reality. Based on a role-playing video game, this epic anime adventure series tracks the intense battles between two rival committees -- one dedicated to destruction and the other to salvation.
Strain: Strategic Armored Infantry: The Complete Series
Sara Werec yearns to follow in the footsteps of her brother Ralph, a legendary mech pilot. But when he leads an assault against her school, Sara begins a new mission: Confront Ralph to reveal the motives behind his betrayal and end his treasonous ways.
And, for a nice bonus, not anime, but of note, seasons 1 and 2 of the CG ReBoot has been added to streaming too.