"Kawaii" icon joins forces with unstoppable J-pop idols!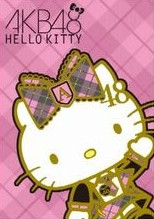 Hello Kitty sure has been busy of late. A little while back, Sanrio's globally famous and iconic mascot has recently teamed up with Hatsune Miku for a series of collaboration goods. Now, proving that she's "sworn to fun, loyal to none", Kitty-chan is embarking on a team up with the all-singing, all dancing J-pop juggernaut known as AKB48. Behold...
So far, the pairing had borne fruit such as notepads, memos, clear files and mini towelettes priced to move in the 300 to 400 yen range (US$3.80 to $5.10) range. All the aforementioned good will come in three different versions, in different color schemes and clearly labeled on Kitty's head ribbon, to match up to a corresponding AKB48 team ala A, K, and B.
Will fanatical AKB fans lose their minds and money trying to catch 'em all? Are Kitty collaborations with Lady Gaga and Kyary Pamyu Pamyu far behind? Only Hello Kitty knows for sure. And she's not saying much...probably because she doen't have a mouth.
Via alafista.com