Popular social gaming network now available via Android market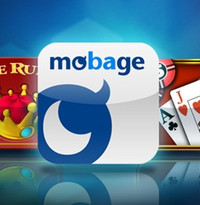 It was just the other day that we were reporting on Suda51's bloody plans for a No More Heroes title on Japan's popular cell phone gaming portal, Mobage. Now DeNA has announced that the platform is available in the US.
DeNA is starting its global rollout with launches of Mobage for Android in China and the United States. As Neil Young—CEO, ngmoco, and Executive Officer, DeNA—puts it, "Mobage's release outside of Japan marks the next step in our company's global expansion... The opportunity in front of us is to build Mobage into the definitive destination for games and entertainment across territories and mobile operating systems."
Mobage is available for free now via the Android Market, with access to more than 20 free games. The exciting part about this is the potential for releases of the many titles based on anime properties, and other Japanese-developed games we don't see over here. Some of the franchises that have been spun into Mobage games include Sengoku Basara, Fairy Tail and Lupin the Third.
Via Anime News