Don't get too excited until you check out the trailer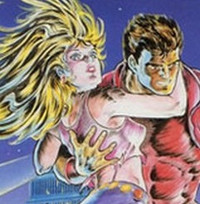 How do you get something so right so very wrong? Double Dragon II: The Revenge—released in arcades in 1988 before being ported to NES the following year—was a fantastic game, but this 3D remake for Xbox Live Arcade looks borderline criminal.
Double Dragon II: Wander of the Dragons is destined for a September release on XBLA, and is reportedly a remake of the original Double Dragon II arcade game, despite sharing few of the coin-op's qualities. The remake adds new mechanics, like a combo system, as well as whole new levels.
That would be fine, but it's strange that the opening of the trailer proclaims that "You can play Double Dragon II on Xbox360 Live Arcade Now!!" Whatever the developers were thinking, this is one trailer that isn't likely to get folks running to their consoles to download the clunky-looking beat 'em up later this fall.
To wash that from our minds, let's have a look at the original 1988 arcade flyer.
Via Game|Life