Black ★ Rock Shooter: The Game for PSP on sale August 25 in Japan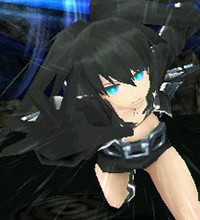 ImageEpoch has uploaded another in game video for Black★Rock Shooter: The Game to their Youtube channel to show off the battle system. This week's video dives deeper into how the system works and shows off some of the skills in battle and what they do.
Watch it below and as always, there is extra footage at the end:
Also, announced during Wonder Festival 2011 Summer and added to the site on Wednesday is a mini-game "BRS-Talk" that lets you "talk" with Black ★ Rock Shooter (c.v. Maaya Sakamoto). You talk by picking options from a menu and the responses are fully voiced. It can be played once per day. It will remember your choices from previous days so choose wisely.
Finally, shown off at Wonder Festival 2011 Summer was one of the costumes that is available in Black★Rock Shooter: The Game: a small orange bikini. However, as said by ImageEpoch Founder Ryoei Mikage, "This is extremely difficult to see [in game]." Two pictures are available at the end of this article on Famitsu.
Black★Rock Shooter: The Game will be released on August 25th 2011 in Japan for the PSP in a first press limited regular edition for 6279 yen that comes with a WRS charm, the limited edition White Premium Box for 10479 yen which comes with a White Rock Shooter figma and more, and a charity download edition for 5600 yen, of which 500 yen goes to disaster relief efforts.
Source: Black Rock Shooter: The Game Official Site
Image ©huke/B★RS Project ©2011・GSC/MAGES./Imageepoch
Previously: Black ★ Rock Shooter: The Game Battle Video #1 Streamed