Featuring character designs by Noizi Ito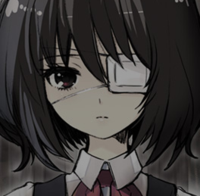 The Another anime project was announced previously, but with the official site launch we learn that the middle school mystery-horror series will start broadcasting in 2012 featuring character desings by Noizi Ito (who is known for the original illustrations in the Haruhi Suzumiya light novels).
Based on the novel by Yukito Ayatsuji, Another is the story of what happens when 15 year old transfer student Kouichi Sakakibara is drawn to a mysterious eye-patched girl, Misaki Mei, in his new, somewhat tense, classroom. Text on the website hints at a sudden disaster as well as "secrets" that no one in the class must speak of. In addition to the current manga and upcoming anime adaptations, a live action film for 2012 is also in the works.
Source: Yaraon