More on The Tibetan Dog, Akagi Season 2, Marvel Anime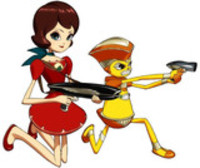 Masao Maruyama, founder of animation studio Madhouse, appeared at Otakon 2011 this morning with word on his new independent studio, Mappa, Satoshi Kon's Dreaming Machine, and more.
The Tibetan Dog, a Sino-Japanese co-production he recently worked on with Madhouse, premiered in China this month and is looking at Japanese release probably by the end of the year. He is still working on projects at Madhouse despite starting his own studio, including two titles that will broadcast this October in Japan.
When asked about the status of Satoshi Kon's Dreaming Machine, he began, "Well, that question was one of the reasons I was reluctant to return [to the convention], but I knew it was a question I would have to answer so I gathered my courage to come here and answer it. To be blunt, the project is on hold. But I do want to go ahead with Dreaming Machine―that's why I have my new studio now." He went on to explain that the biggest reason the project is on hold is money, but seems absolutely dedicated to raising some, "I don't care how many years it's going to take; I will get the financing required to complete the title. And currently about 600 cuts of the film [have] been done, but there [are] still about 900 to go." Mappa is meant to be a complementary studio to Madhouse, since Madhouse finds some projects difficult to do due to financing issues.
As for the plot of Dreaming Machine, Maruyama was ready to reveal some details, "I haven't really talked about what the film is about, but I think I can talk about it today." Apparently the movie starts with a horrible tsunami that wipes out an whole town, and a robot goes on a journey to seek energy. "This is an orginal story that Satoshi Kon came up with 2 years ago […] and it happened in Japan this year. I'm starting to think that certain creators do have the ability to see what's coming in the future."
A fan of the mahjong anime, Akagi, asked about the possibility of seasons 2. Maruyama mentioned that both he, the director, and a producer at NTV want to do it, but that, as always, "part two requires a commerical success of part one." However, "I think Akagi has cleared that requirement so it should be happening."
While explaining how it gets decided which projects he works on, Maruyama noted that, "It's great fun working on titles that always get green lit [such as a Shonen Jump manga title], but I'm also a contrarian so I love the challenge of titles that have trouble getting green lit." Hopefully we can look forward to projects like these coming out of Mappa!
On digital versus cel animation, he made the point that, "Because digital painting and filming makes stuff more efficient and it's progress, there is no reason to go back to cel―it's still hand-drawn art."
Maryuama got his start in the industry at Osamu Tezuka's Mushi Production. "After my first week at Mushi, I got no sleep at all, and so Tezuka saw what I did and he said, 'You've done well; I like you,' and that was the first word of encouragement I got and that kept me going for the next 50 years."
A fan asked about the reaction to Marvel Anime (Iron Man, Wolverine, X-Men, and Blade). "Well, if you ask me about personal favorites, of the four titles, I love them all and I hate them all." Marvel did the story, but Madhouse did Japanese-style visuals. "It's up to the audience to decide if it was a success, and it's up to you to decide if it came out as Japanese flavor or American in nature. […] A lot of old people in the anime industry, those ancients who are in their 60s and 70s who started in the anime industry in their 20s […] we were fans of American comics and we always wondered why American comics turned into sucky cartoons when they were made in the states. It was something we always wanted to try. Can we make American comics into animation for a mature audience? It was something we always wanted to do, and it was something that Madhouse was finally able to do."
Maruyama was also asked about sightseeing while he's in town, "When I come to Baltimore, the most important thing is to catch up [on] sleep, so I sleep [during the] day and eat crab cakes at night."