A Brand New Season of Code Geass is Slated for 2012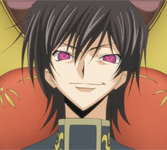 It was announced on Sunday at a Sunrise Otakon Panel that a new season of Code Geass will be slated for next year. This provides further proof that the project is still in production since being announced last year. Masayuki Ozaki, the General Manager for Overseas Development at Sunrise confirmed that this will indeed be the next season of the series.

This new project will not feature the series' protagonist, Lelouch, but will take place in the same world. The Code Geass Gaiden Bōkoku no Akito project is set in Europe where a Knightmare Unit of Zone Eleven boys and girls must rescue allies left behind on the battlefield.

The director for the new season is Kazuki Akane who also directed The Vision of Escaflowne and Noein - to your other self. Akira Yashuda will once again design the mechanical Knightmare units with Shigeru Morita providing script support. Takahiro Kimura will also be returning to adapt CLAMP's original character designs.

No official release date has been set for this project. Keep visiting Crunchyroll News for all of the latest developments. Episodes of Code Geass are available on Crunchyroll.com.

Source: ANN