New Anime Movie Seven Years in Development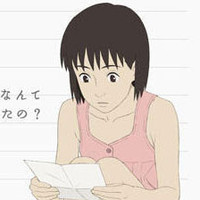 Hiroyuki Okiura made in impression as the director of Mamoru Oshii's 1999 Jin-Roh, but he is only now producing a follow-up with A Letter to Momo. Check out the trailer for Production I.G's upcoming anime movie below.
From Production I.G's announcement of the feature.
In a world wired with high-speed communication technology,
real connection between people is getting thinner and superficial.
Are you sure you are telling your beloved ones what truly matters?

Production I.G announces the production of a new animated feature film, A Letter to Momo (original title: Momo e no Tegami), the highly anticipated second directorial effort by world-acclaimed anime director Hiroyuki Okiura (Jin-Roh). Supported by a top-class team of skilled creators and requiring seven years of work for its completion, A Letter to Momo will combine state-of-the-art traditional hand drawn animation with heart-warming, emotional storytelling for children and adults alike. The movie will be theatrically distributed in Japan in 2012 by Kadokawa Shoten.
Story
Momo is a young girl who grew up in a big city.
However, following the premature loss of her father, she has to move with her mother to the old family house on a remote island. Here, time seems to have stopped: old wooden buildings, holy shrines surrounded by trees, fields painstakingly carved out from steep hills... and no shopping mall.
Needless to say, Momo is not too overenthusiastic about this new environment.
Most of all, her heart is still feeling uneasy about an unfinished letter left by her father. A letter that contained only two words: "Dear Momo..."
What was dad going to say?
One day, exploring the attic of her new big house, Momo finds a dusty and worn out book.
And from that moment, something really unexpected starts happening around her...
Main Staff
Director / Screenplay / Storyboard: Hiroyuki Okiura (Jin-Roh)
Key Animation Supervisor: Masashi Ando (Princess Mononoke, Spirited Away)
Key Animators: Toshiyuki Inoue (Tokyo Godfathers), Ei Inoue (The Cat Returns), Takeshi Honda (Evangelion: 2.22 You Can (Not) Advance), Tetsuya Nishio (The Sky Crawlers), Hiroyuki Aoyama (Summer Wars)
Background Art: Hiroshi Ono (Kiki's Delivery Service)
Animation: Production I.G (Ghost in the Shell, Jin-Roh)