Bandai Visual aims for the top with new footage and more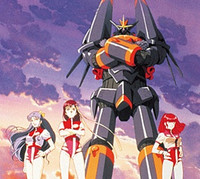 Anyone searching for the ultimate version of Gainax's 1988 OVA, Aim for the Top! Gunbuster, need look no further than Bandai Visual's upcoming Blu-ray. Along with the expected remastering, the set also includes a new short movie and more.
This box marks the first home video release of Gunbuster's 5.1-channel soundtrack, with the option of the original 2-channel track included. Footage of the OVA was remastered through a Gainax-supervised telecine transfer from the original film stock.
Extras in both the complete and regular editions include a new short movie, new audio commentary and a 16-page booklet, as well as the video shorts "Harumi & Yumiko's Good Morning, Oki-Jo!", "AD 2032.7.23 Sento Chuiki cosmic battle space orbit of Halley's comet," the five "Science Lessons,"Sizzler Project," and promotional video collections.
The real monster is the complete edition, which adds a 115-minute disc of bonus material, with an untrimmed version of episode 6, a rough telecine transfer of episode 5 (used for recording the episode's dialogue), footage from video magazine Denei Teigoku and VHD magazine Anime Vision, production materials, and bonus material originally included in the Gunbuster Perfect release.
This is all in addition to a 100-page booklet, an encyclopedia of production materials, early image boards and more. The three-disc Complete Edition will run you a cool ¥15,540 (~ $201), with the two-disc regular set priced at ¥13,440 (~ $174).
Both sets release in Japan on February 24, 2012. Importers, be on the lookout!
© BANDAI VISUAL - Flying Dog - GAINAX