Ami and Yumi take on voice acting for the first time in five years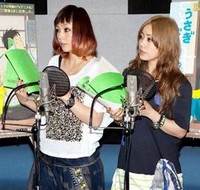 The anime adaptation of Yumi Unita's Usagi Drop manga is going to get a couple rockin' additions to its cast come episode 9. Pop duo Puffy (Puffy AmiYumi) will be taking a fresh crack at voice acting for the series, playing the part of children's after-school caretakers.
These roles mark the first time the duo—Yumi Yoshimura and Ami Onuki—have voice acted since the 2006 anime Hataraki Man. Despite having an American animated series, Hi Hi Puffy AmiYumi (2004-2006), modeled after themselves, they only provided the theme song for that one.
Puffy also provided the theme song "Sweet Drops" for both the Usagi Drop anime and live-action film. Yumi had the following to say about recording her voice for the anime: "I was surprised at how everyone's voice carried through; even the kids do it really well. I was like a borrowed cat (quiet and meek)."
Ami: "Pros are amazing. I was nervous from the pressure."
Episode 9 of Usagi Drop airs on September 1.