New Pictures and Information About The Amazing Spider-Man Released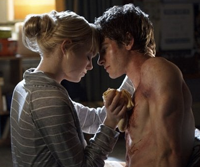 New pictures have surfaced from "The Amazing Spider-Man" that features Peter Parker with Gwen Stacy and a candid moment with his Aunt and Uncle. Click the image below to visit the image gallery.


Peter Parker fans can mark May 2, 2014 on their calendars as the date for the second installment of the popular franchise relaunch. Sony Pictures made this announcement after postive feedback from fans at San Diego Comic Con.


In case you missed the Spider-Man Teaser Trailer.