First Feature From Son of Hayao Miyazaki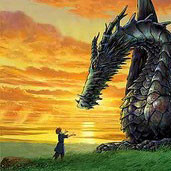 Tales from Earthsea, the Studio Ghibli adaptation of classic sci-fi Ursula K. Le Guin's work from Goro Miyazaki, has been added to Netflix's streaming video service. The movie was the first directed by the son of studio founder Hayao Miyazaki, who had previously worked in landscaping and served as the curator and managing director of the Studio Ghibli Museum.
Based on Ursula K. Le Guin's best-selling Earthsea novels and produced by the studio responsible for Spirited Away, this animated adventure tells the magical tale of Arren (Matt Levin), a teenage prince who must solve the riddle of his realm's decay. Arren runs away from home after killing his father, and during his journey, meets powerful wizard Sparrowhawk (Timothy Dalton), young sorceress Therru and deadly warlock Lord Cob (Willem Dafoe).
Starz/Manga Entertainment's Macross Plus: The Movie has also rotated back onto the Netflix offering. Check out the more mature take on the Macross forumla of love triangles, transforming jets and idol singers, with a pre-Cowboy Bebop Shinichiro Watanabe / Yoko Kanno collaboration and English dub voice acting from Breaking Bad's Bryan Cranston.
Isamu Dyson, an extroverted jet fighter maverick fresh from the battlefield, is assigned as a test pilot for Project Super Nova. Competition heats up when he discovers his former childhood friend turned bitter rival, Guld, is a test pilot for a competing fighter project.