Prepare to make a contract with your PSP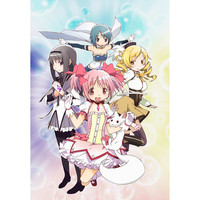 According to those who have gotten their hands on an early sale copy, the next issue of Dengeki Playstation will announce a Puella Magi Madoka Magica PSP game titled Mahou Shoujo Madoka Magica Portable (Puella Magi Madoka Magica Portable). Additionally, the following details about the game have been provided for the rest of us: The game will be an "adventure and dungeon RPG" with the dungeon part being turn based and roguelike-ish. The story will be based on the anime, but will also include parts that weren't in the show including a new witch. The game will also include newly created transformation scenes.
It is being developed by Bandai Namco with Steins;Gate's Yoshinao Doi and God Eater's Yusuke Tomizawa at the helm. Reprising their anime production roles, Gen Urobuchi is writing the scenario while SHAFT and Gekidan Inukare are doing illustrations. The game will be released March 15th, 2012 in a regular edition for 6480 yen and a limited edition for 11900 yen. The limited edition will include a figma of Madoka in her uniform, a blu-ray, a Kyubei pouch, a handkerchief (from "that" scene), illustration collection, and a special card. The pre-order bonus will be a transformation scene filmstrip and a custom theme code.
via "0taku.com" blog
Image ©Magical Quartet / Aniplex, Madoka Partners, MBS
Note: This article contains outdated/unconfirmed information. Please see this article for the latest.