Promo From Jonathan Brooks, Voice of Prussia Too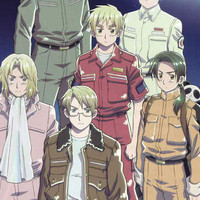 The anthropomorphized countries of Hetalia will be back in November 22nd, with FUNimation's release of the movie, Hetalia Paint It, White! To promote this a preview clip and a promo by voice of Prussia, Jonathan Brooks, have been posted.
A special Limited edition release of Hetalia Paint It, White! includes a Pictonian bulb green soft, cotton character print Bandana.