Yukari Tamura to voice original character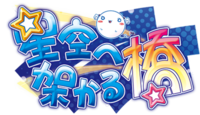 The official website of the Spring 2011 TV anime Hoshizora he Kakaru Hashi has updated to announce that an OVA for the series will be released on December 21st. The OVA will have an original character voiced by Yukari Tamura (Rika in Higurashi no Naku Koro Ni series, Nanoha in Nanoha series). Further details about the OVA will be announced later.
Source: Official Website via Yaraon!
Image ©feng・山比古町観光協会