Twin sci-fi mini features to be released later this year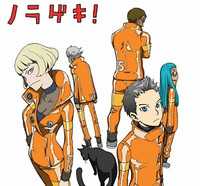 Announced via press release today, Sentai Filmworks has acquired the sci-fi mini features Coicent and Five Numbers. Coicent reunites writer/director Shuhei Moritai and character designer Daisuke Saijiki, who previously teamed up on the CGI anime Kakurenbo. The synopsis from Sentai:
First, it's a quick time jump to the 26th century where a school trip to a rebuilt 21st century city turns into a wild adventure for teenage Shinichi. While chasing a talking deer that steals his bag, he runs into a strange girl trying to elude even stranger pursuers, and then things get wild. It's a mad dash through a city of the past as two young people discover a chance at a new future in COICENT.
Five Numbers is directed by Hiroaki Ando, who handled the CGI for Steamboy and Noiseman. This project teams him up with character designer Masaru Gotsubo (Samurai Champloo) and scripter Dai Sato (HALO: Legends - The Package, Ergo Proxy). More from Sentai:
Four people awake to find themselves in the ultimate prison: an ex-soldier, a beautiful woman, an average Joe and a young computer hacker. Why are they there? What connection links them together? And how can they escape? The answer seems to lie with the fifth prisoner, an old man who knows far more than he is telling. And then there's the cat. It's the ultimate locked room mystery and all their lives hinge on solving it in FIVE NUMBERS.
Digital distribution of both Coicent and Five Numbers should begin soon, with a DVD and Blu-ray release planned for later this year. Both titles will be released together, and will feature both English subtitled and English dubbed versions.