Make a contract with Kyubei and become a portable magical girl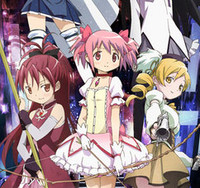 Famitsu has posted screens and more details about the recently announced Puella Magi Madoka Magica Portable PSP game. In addition, the official website is now open.
The adventure/dungeon RPG game is being developed by Bandai Namco Games in collaboration with Nitro+. The producers are Yusuke Tomizawa (God Eater) and Nitro+'s Yoshinao Doi (Steins;Gate). Anime scenario writer Gen Urobuchi is credited with project assistance and scenario supervision. SHAFT is in charge of animation production for the game while Gekidan Inukare are credited with design assistance for the witch designs they are providing for the game.
The adventure part of the game is where the story progresses and where you talk to the characters in fully voiced scenes as you make choices on the map, leading you to the 3D dungeon RPG part where you take your magical girl(s) and take down the witch and her familiars. The story is based on the anime, but also contains parts that were not in the anime, including a new witch. Depending on choices in game, there are multiple scenarios and multiple endings. Some situations may have possible outcomes which differ from that of the anime.
Adventure part:
Dungeon Part:
There are two new transformation scenes being animated by SHAFT for the game in addition to other scenes from the anime which will be included. One is for Madoka, which was not shown in the anime, and a new one for Homura while wearing glasses.
Madoka's Tranformation:
The game will be released March 15th, 2012 in the regular edition "Regular Contract Pack" for 6480 yen and the limited edition "Limited Contract Box" for 11900 yen. The limited edition includes a copy of the game, a figma of Madoka in her school uniform, a blu-ray with special media, a Kyubei shape pouch, HomuHomu handkerchief (from "that" scene), a special clear card, and a box illustrated by SHAFT. The limited edition production run will be limited to the number of orders received.
The regular edition includes the game and a DVD with the same contents as the Blu-ray. The pre-order bonus is a film strip of the newly created transformations scenes for the game and a custom PSP theme code.
For more images, including full size ones, check out the Famitsu link below.
Puella Magi Madoka Magica Portable Official Website
Source: Famitsu via "0taku.com" blog, Temple Knights
Images from Famitsu ©Magica Quartet/Aniplex・Madoka Partners・MBS ©NBGI ・ Nitroplus
Previously: Puella Magi Madoka Magica Portable to be Released in March 2012