Trailer for new Atlus title reminds you what to bet on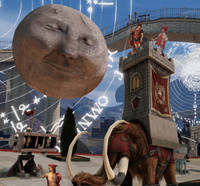 Rock of Ages is billed as a "balls-to-the-walls" tower offense game with fast-paced strategy, high art, and gigantic boulders of doom. It's tough to argue with that thanks to the trailer Atlus released, which shows us all that Rock beats everything via a tribute to gaming history. Check it out below.
The folks at Atlus and ACE Team announced today that Rock of Ages will smash the very foundation of Xbox Live Arcade on August 31, with a PC and PlayStation 3 release coming later this summer.