More Videos Surface from the Avengers Set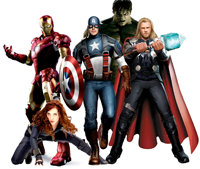 There is a certain geek factor with the returning actors from previous films that makes "The Avengers" an almost guaranteed record breaker for Marvel. Over the last three years, they've successfully launched three franchises with Iron Man, Thor and Captain America collecting just under two billion dollars world-wide.

Joss Whedon's involvement in the film is also a very promising sign that it won't disappoint. The creator of Buffy the Vampire Slayer and one of the writers of Toy Story (shocker) is no stranger to hero ensembles. If comic fans wanted a taste of what it's like to enjoy a Pro Bowl or All-Star game, keep the weekend of May 4, 2012 wide open.

As the cast and crew continue to film on the streets of Cleveland, Ohio, more and more videos are beginning to surface. This article includes a collection of videos that have been captured over the past couple of days.


Source: Marvel Comics

Source: Cleveland.com


Source: YouTube



Source: YouTube

Image Source: Splash News Online
News Source: IFC


----------
Sean Russell is the webmaster for the podcasting network, Anime3000.com. This is a media network that provides fans with resources ranging from original video and audio programming, hundreds of useful links, an interactive community as well as contests and giveaways. A3K's goal is to provide new and current anime fans with an outlet to showcase their creative talents. This includes working with other bloggers and professionals to shine a spotlight on anime, manga and comics.