Rohan Kishibe Quests for Gucci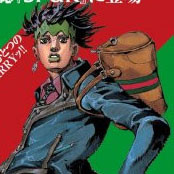 Manga creator Hirohiko Araki's work with women's fashion is continuing this fall with a one-shot manga starring Jojo Bizarre Adventure spin-off character Rohan Kishibe in fashion magazine Spur leading into a Gucci collaboration.
Spur's October issue goes on sale in Japan this week, and that features a 16 page, full color one-shot in which super powered manga artist Rohan travels to Florence, Italy with a handbag that had been his grandmother's keepsake.
Araki's involvement with handbags continues with contributions to an exhibition commemorating the 90th anniversary of founding the brand Gucci being held starting September 17th at Tokyo's Shinjuku Gucci. This will feature Rohan manga reprints, original illustrations of Gucci's fall/winter lines, as well as an installation of life size figures.
Rohan Kishibe previously starred in Jojo's short story spin-offs "Thus spoke Kishibe Rohan," "Under Execution,Under Jailbreak," and, most notably, "Rohan at the Louvre" - tied to exhibit at the French art museum.