Entertainment Weekly posts a deleted scene from X-Men: First Class.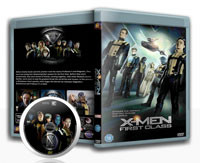 Entertainment Weekly shares an exclusive clip of a deleted scene from X-Men: First Class. In this clip, Eric Lehnsherr (Michael Fassbender) and Charles Xavier (James McAvoy) share their powers with Angel (Zoe Kravitz). The deleted scene is being included on the DVD that will be released on September 9. As you can tell from the screenshot, we see a different side of one of the characters in this clip.


----------
Sean Russell is the webmaster for the podcasting network, Anime3000.com. This is a media network that provides fans with resources ranging from original video and audio programming, hundreds of useful links, an interactive community as well as contests and giveaways. A3K's goal is to provide new and current anime fans with an outlet to showcase their creative talents. This includes working with other bloggers and professionals to shine a spotlight on anime, manga and comics.