Sakae Esuno Kicks Off New Work in Shônen Ace #11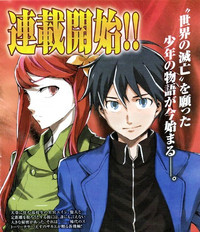 Sakae Esuno, creator of manga series Future Diary and Hanako and the Terror of Allegory, will be launching new manga series Big Order in this year's 11th issue of Shônen Ace, on sale on September 26th.
The series follows an introverted highschool student who secretly wants to end the world.
Future Diary, about a death match between people with cell phone containing diary entries from the future, ended last December after 12 volumes (and two side stories). An anime adaptation is scheduled for this fall. Ten volume of the series, and Hanako and the Terror of Allegory were published in North America by Tokyopop.