Featuring popular adult visual novel/TV anime series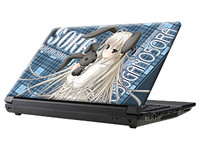 DIGICRAFT CORPORATION, an IT company in Tokyo, is now accepting pre-orders for their new laptop computer featuring Moe characters from an adult visual novel/TV anime series "Yosuga no Sora". The laptop, also called "Moe Note PC", is preloaded with system voices and wallpapers of the various girls of the series. The "Premium Model" is priced at 248,000 yen (US$3,234) and the "Normal Model" is 150,000 yen (US$1,956). They are available by Internet order only in Japan.
"Yosuga no Sora" is originally an adult visual novel developed by Sphere, which was released for Windows PC on December 5, 2008, then was adapted into a TV anime series in October-December 2010.
Wall papers
"Premium Model" Specifications
CPU: Intel Core i7-2820QM Processor (8M Cache,2.30GHz,Max Turbo Frequency 3.4GHz)
OS: Windows 7 Home Premium 64bit
Memory: DDR3 8GB
Display: 15.6-inch Full-HD (1920×1080)
Hard disk: 250GB SSD Intel 510Series
"Normal Model" Specifications
CPU: Intel Core i5-2410M Processor (3M Cache,2.30GHz,Max Turbo Frequency 2.9GHz)
OS: Windows 7 Home Premium 32bit
Memory: DDR3 4GB
Display: 15.6-inch Full-HD (1920×1080)
Hard disk: 120GB SSD Intel 320Series
Source: AKIBA PC HOTLINE
© Sphere