"Americana" design takes the prize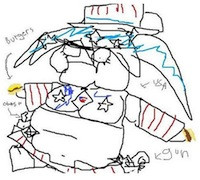 Hatsune Miku USA has been chosen, NEW PEOPLE announced today. Submissions to the joint contest from San Francisco's Japantown and the official VOCALOID community site, PIAPRO, were due July 19th. No, she's not pictured at the right.
Here is the winning design by exiled_artist:
What do you think? She's certainly got the red, white, and blue down.
Source: @NEW_PEOPLE
Previously on Crunchyroll News: Design the American Hatsune Miku!