Premieres October 1st in Japan.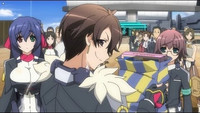 Lantis is streaming a new promotion video for the upcoming Fall series Kyoukaisenjyou no Horizon (Horizon on the Middle of Nowhere), animated by Sunrise, on their official Youtube channel. This promo is similar to the Toori promotion video, but contains additional footage and a few lines of dialogue from Horizon, voiced by Minori Chihara. Minori Chihara is also singing the opening theme "Terminated". Watch both videos below:
Promotion Video #2 - Horizon Version
Promotion Video #2 - Toori Version
In addition, the official twitter account has announced that the series will premiere on October 1st and there will be two ending themes. Ceui, who previously sang the ending theme for Aoi Hana and the first opening and second ending themes for Legend of the Legendary Heroes, will be singing "Stardust Melodia" while AiRI, who sings the Manyuu Hikenchou opening and ending themes, will be singing "Pieces." Both will go on sale separately on November 9th.
via 0takomu
Image ©川上稔/アスキー・メディアワークス/境界線上のホライゾン製作委員会
Previously: New Horizon on the Middle of Nowhere Promotion Videos Streamed