UPDATE: Treasure's Saturn classic doesn't jump the gun!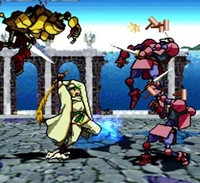 UPDATE: It turns out it was Major Nelson who jumped the gun! According to his Twitter he made a mistake, and Guardian Heroes does not release tomorrow via XBLA. No further details available.
When we first reported on the Xbox Live Arcade release of Treasure's amazing 1996 brawler, Guardian Heroes, we weren't too happy about the visual upgrade. Then it was announced that the game would include the original version, too, but no release date was included. Well, guess what? It's out tomorrow!
Yes, Xbox's Major Nelson just announced the release date for the title, which originally debuted on Sega Saturn, and it comes out tomorrow alongside Mortal Kombat Kollection. With the original version intact, I certainly can't recommend it enough, especially with some friends along for the beat 'em up ride.
Other titles hitting the download circuit tomorrow are Rock of Ages, The Baconing and a game based on Comedy Central's Ugly Americans cartoon.
Via Joystiq